Park Events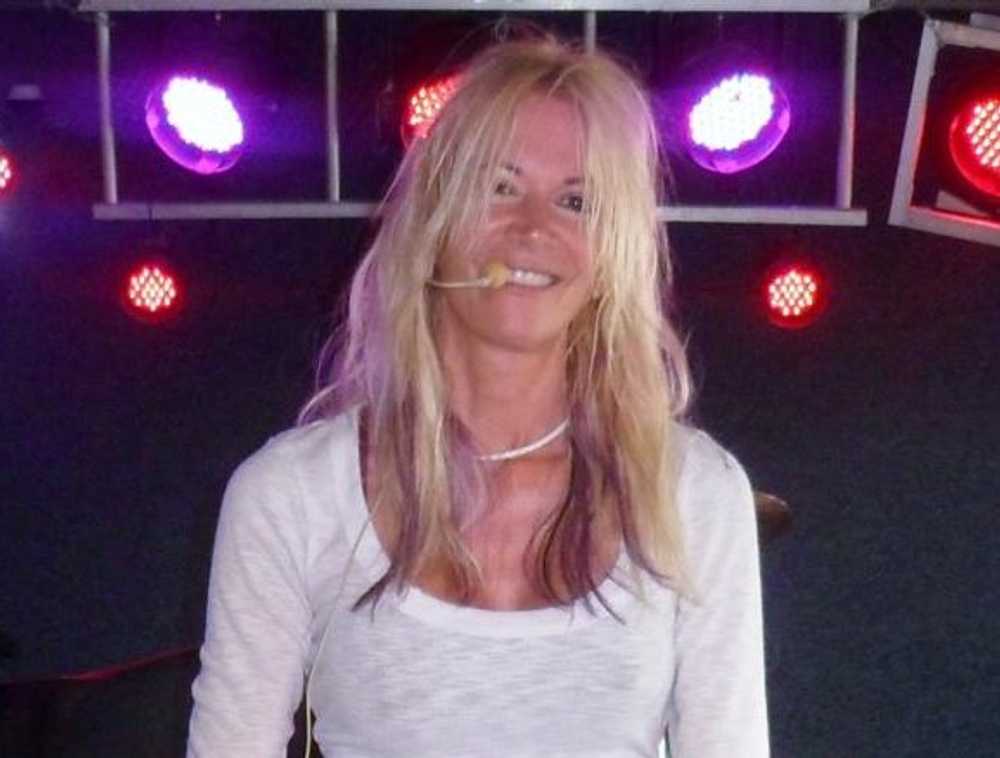 Concert Day!
May 15 - May 15
Get here early for music trivia at noon hosted by DJ Mother Tucker. It's like bar trivia with music and the top three point getters receive a bottle of booze! Cat takes the stage at 2pm playing a variety of fun music that'll have you dancing in and around the pool. After dark we'll project the ultimate giant monster battle royal, Godzilla vs. Kong on our big screen at the pool. Stay the weekend because we're going to party in the park and around the bonfire on Friday night and sing karaoke at the pool on Sunday! Make your reservations today!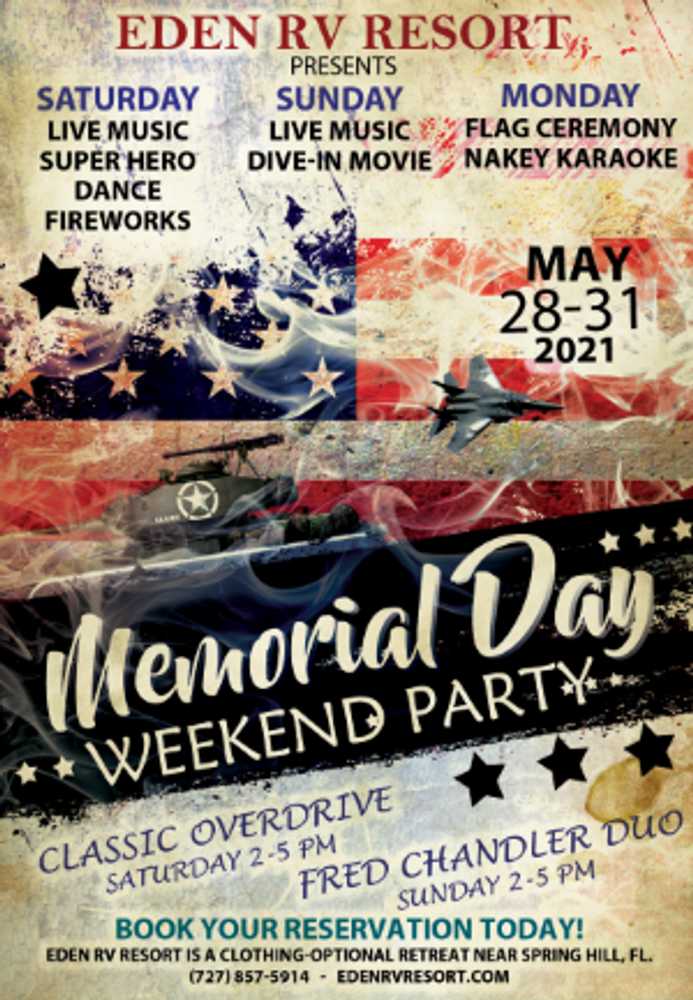 Memorial Day Weekender
May 28 - May 31
Friday, May 28th We'll kick off the weekend with a cornhole tourney during our Party in the Park on Friday night. $5/person Signup at the tiki hut by 7pm. Saturday, May 29th DJ Mother Tucker @ noon Live Music with Classic Overdrive @ 2pm Super Hero Costume Dance in the Park @ 8pm Fireworks @ After Dark Sunday, May 30th DJ Joe Poolside @ 11am Live Music with Fred Chandler Duo @ 2pm Dive-In Movie "The Outpost" @ After Dark Monday, May 31st Flag Ceremony @ noon Nakey Karaoke @ 1pm
Beatlenudia Weekend
June 18 - June 20
Celebrating Sir Paul McCartney's 80th Birthday in the nude featuring live music from three of the Tampa area's top bands! Friday @ 7pm ~ Nunes at Night Trio Saturday @ Noon ~ Music Trivia Saturday @ 2pm ~ Ruby Red Saturday After Dark ~ A special Dive-In Movie presentation of Yellow Submarine Sunday @ 1pm ~ 3-Dom Band Book your reservations early. You don't want to miss our Beatlenudia weekend!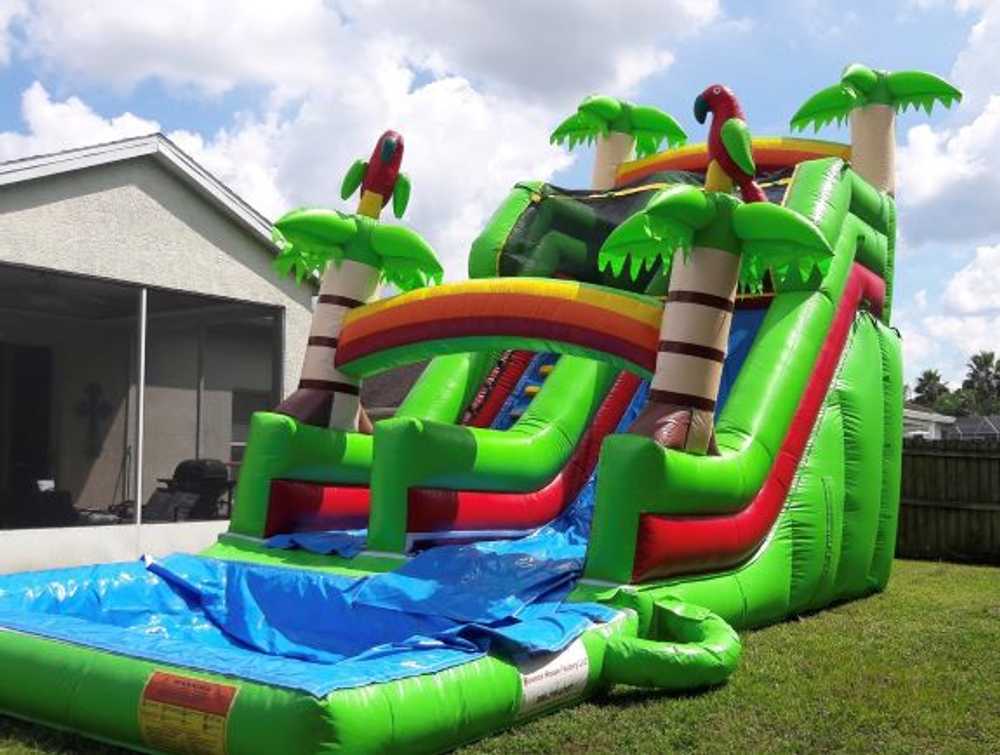 4th of July Family Freedom Weekend
July 1 - July 5
Eden RV Resort will have a weekend full of fun for the entire family! We'll have fireworks, live music, dive-in movies, cardboard boat races, pie-eating contest, a giant water slide, and more! Book your stay with us today!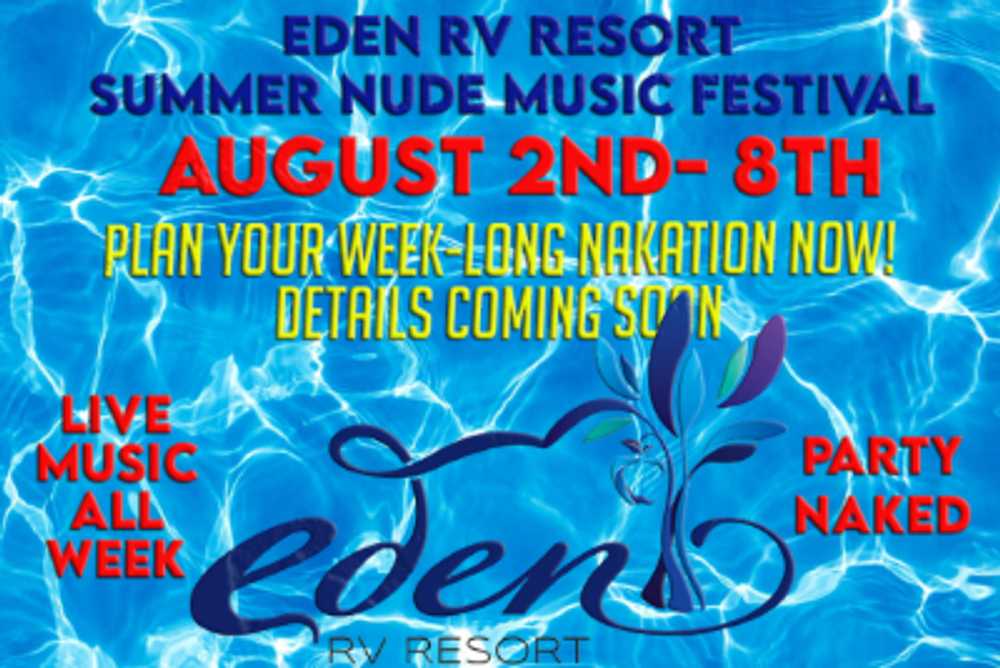 Summer Nude Music Festival
August 2 - August 8
Two live bands every day! Book your stay now to save your spot. More info coming soon!