Park Events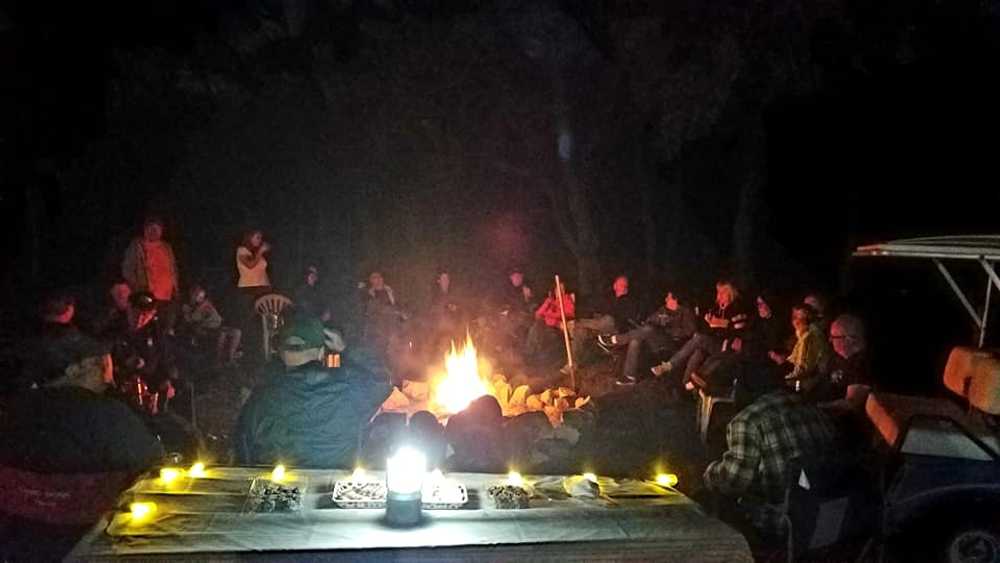 Saturday Night Roaming Campfire-Back with Social Distanced Seating YAY!
April 7 - June 2, 2021
One of our Saturday evening campfires held each Saturday night at 8:00 PM weather permitting in one of our community fire-pit locations. Exact times vary depending on the sunset time. Weather permitting.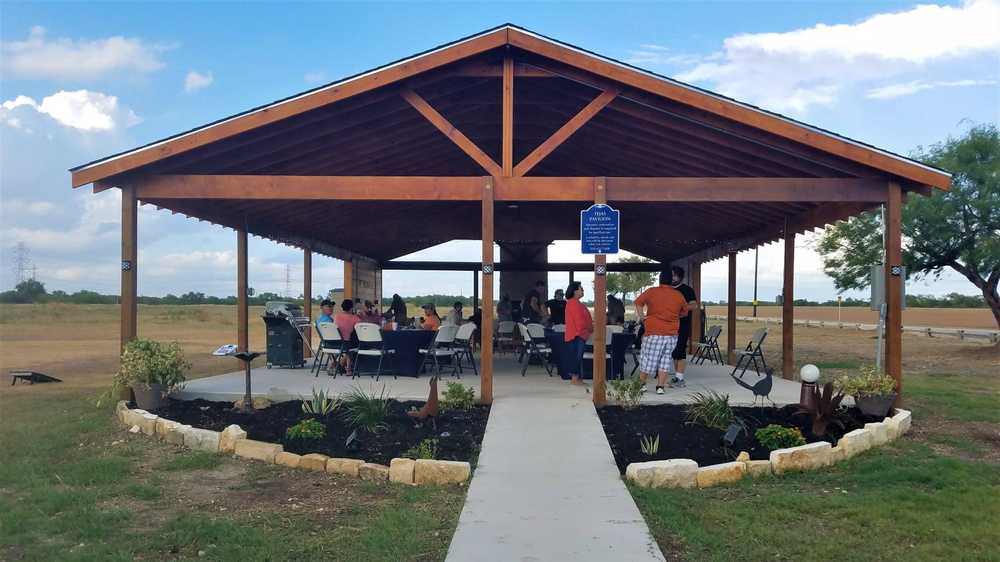 The Tejas Pavilion
September 28 - September 29, 2019
****Although the Tejas Pavilion is closed for our regular scheduled events, it still may be used for activities in line with social distancing and other COVID safety measures.**** The TEJAS PAVILION is used for park events, groups or individuals by reservation. Check at the Trading Post for reservation rates/deposits or call 210.422.7608. Seating for 40 plus guests, fireplace, outdoor kitchen and yard games to enjoy during park events. September 28, 2019 Grand Opening BBQ--All RVers welcome to the Tejas Pavilion Grand opening BBQ. Brisket, burgers and hot dogs and any side dish or dessert you'd like to bring. Please let us know if you're planning on bringing a side so we don't duplicate it. Please call for more details and to RSVP 210.422.7608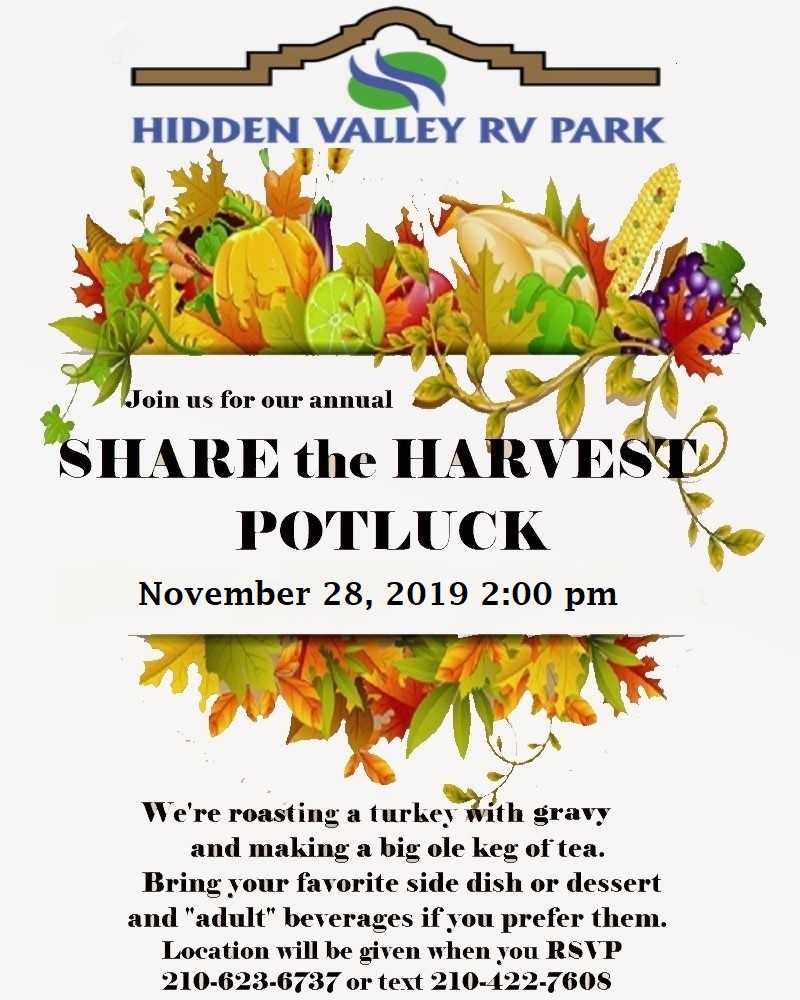 Share the Harvest Potluck 2019
November 28 - November 29, 2019
Share the season's harvest with Hidden Valley family on November 28, 2019 with a park wide Potluck. Get details and RSVP for our annual event at the Trading Post or at 210.422.7608. THIS IS AN ANNUAL EVENT, watch for the 2020 dates to be announced.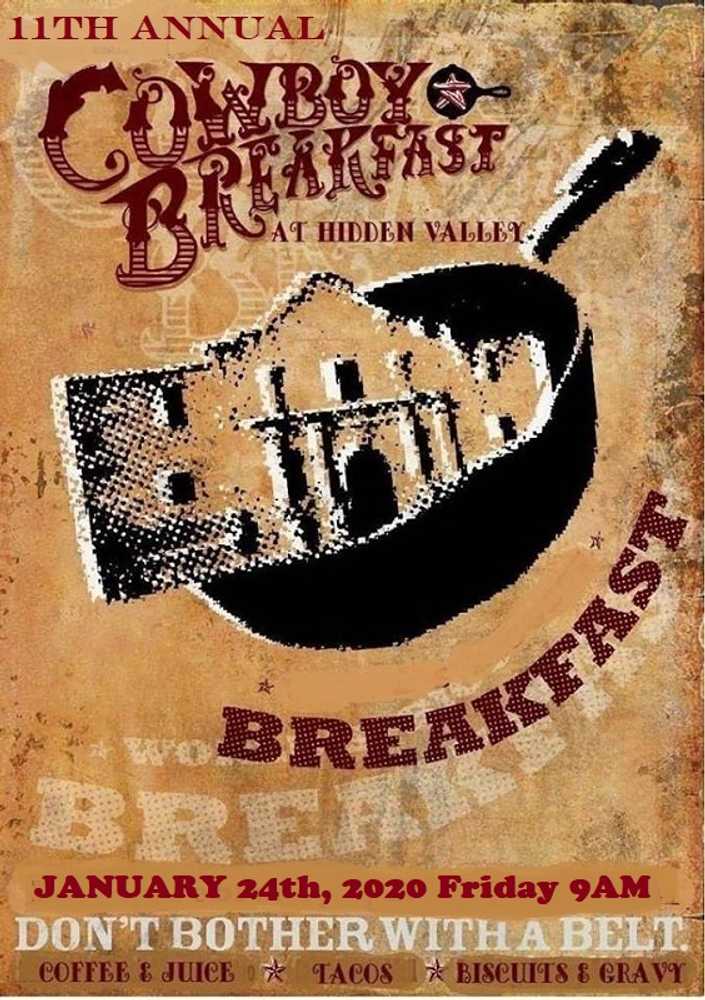 Annual Cowboy Breakfast
January 24 - January 24
Hidden Vallians...Join us for the 11th annual Cowboy Breakfast at Hidden Valley RV Park. Plenty of vittles, country music and a bottomless coffee pot. (Bring your mug!) All free but free tickets or reservation are required so we can feed every hungry cowpoke. Give us a call at 210.623.6737 to reserve or check out this link to get tickets on our facebook page at this link, https://www.facebook.com/events/512510282955582/ Wear your western duds! Y'all come hungry! THIS IS AN ANNUAL EVENT, watch for the 2021 event date.